The World's Slimmest LED Monitor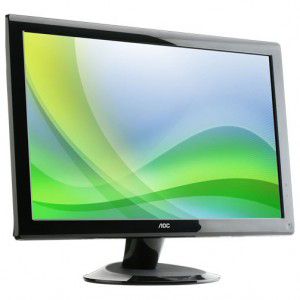 At only 0.5 inches thick, the AOC 24-inch Widescreen LED Monitor is the slimmest PC monitor in the world. It's even thinner than the iPad and many other tablets on the market today. AOC's monitor, which is also available in a 20-inch model at hhgregg, has an ultra-high dynamic contrast ratio of 50 million to 1, which means you see darker darks and lighter lights for an amazing depth of field.

Monitor Features

The monitor features a stylish, black glossy exterior on the front, back and base, and its minimalist illuminated touch-key controls contain no mechanical switches. Simply touch the lighted controls in the base to turn the machine on or change its settings. The display setting menus are also intuitive and simple to follow. Easily adjust the screen's contrast or brightness. The controls include a hotkey to change the image ratio from the 16:9 standard to the 4:3 widescreen.

The base of the monitor, which requires no assembly, folds for easy mounting on a wall. Doing so will help you save desktop space. In combination with its amazing depth of field, the monitor is ideal for viewing movies or for sharing a slideshow on a wall in your home. The monitor comes equipped with DVI and VGA connections. The 24-inch monitor also features an HDMI input, which lets you treat it like a flatscreen TV. Easily connect to a gaming console, a DVD or Blu-ray player, or an internet TV box. The 24-inch model also comes with a USB pass-thru, which means your computer now has one additional USB port that you can use to connect to a device such as a digital camera, tablet, smartphone, printer, mouse or keyboard.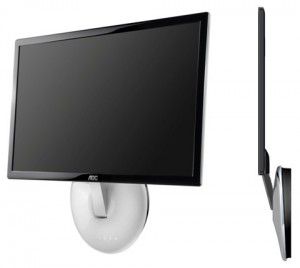 AOC's monitor is also Windows 7 compatible. Windows 7′s device drivers are more equipped than previous Windows operating systems to let you more accurately view various types of applications, whether they load from the computer itself, a CD, DVD or flash drive. The screen comes with both analog and digital source inputs to meet all needs.

Energy Conservation

The monitor also conserves energy. Its power-saving mode uses 50 percent less energy than conventional 4x CCFL backlight panels. The Eco Mode offers five display pre-setting hotkeys that you can program to meet different viewing conditions, such as viewing text, surfing the internet, playing games, watching movies or viewing sports. The monitor's e-Saver tool lets you program the standby mode to turn on the screensaver or absence modes after a specified period. When standby is on, the monitor only uses 0.1 watts. You can also set the monitor's alarm clock to turn it off automatically.

The Energy Star® compliant model meets the EPA 5.0 standards for its energy efficiency. The monitor's backlight doesn't use any mercury. And the model also uses green packaging. Its packing substance was made from 100% recycling pulp mold.