Size Matters: The Right Flat Screen Will Improve Your Viewing Experience

In elementary school, you may have learned that you should watch TV from a distance equal to the height of a basketball player. But since large screen HDTVs came out, that estimate has changed – unless there are 15-foot-tall basketball players now too. The rule of thumb is simple: the bigger your large screen HDTV is, the further away you should view it. hhgregg can help you determine the right screen size for your home. The following table provides the range of optimal viewing for different screen sizes.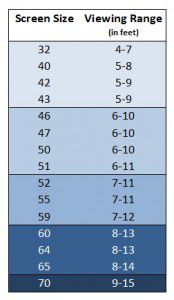 High-resolution technology has enabled us to have larger screens today without compromising on quality. But if you buy a screen that is too large for your room, you may not be seeing the big picture – or at least not all of it. In general, the viewing distance should be between 1.5 and 2.5 times the diagonal length of a screen. When it's time to purchase a new HDTV, you should measure the distance from your couch to where you will place your new TV. Bring that measurement to your nearest hhgregg location, and a sales associate will help you determine the right size.
Bigger is Better
In addition to high-resolution technology, the advent of wide screen TVs has us revisiting the size of our TVs. When the width of our TVs increased, the viewing area actually decreased. For example, a 32-inch screen with a 4-to-3 aspect ratio provides 491.52 sq. inches of viewing area, but the same size of screen with a 16-to-9 aspect ratio only provides 439.6 sq. inches, or about 10 percent smaller. Increasing to a 40-inch screen will add 198 sq. inches to your screen, and it only requires an extra foot of viewing distance. What type of media you are viewing also plays a role in viewing distance. For example, watching a DVD requires more viewing distance than watching cable on a 1080-pixel HDTV. The following diagram illustrates how the media type influences the relationship between screen size and viewing distance.
Viewing Angle
Guidelines are also available regarding the optimum angle at which you view the screen. THX published standards that movie theaters must adhere to in order to qualify for THX certification. According to MyHomeTheater.com, THX requires that the back row of seats in a theater have at least a 26-degree vertical viewing angle, and they recommend a 36-degree vertical viewing angle. For a home theater, the website recommends a 10- to 20-degree vertical viewing angle. They base the figure on a normal human's optical cone of vision, which has a radius of approximately 15 degrees. hhgregg can help you find furniture or wall mountings that will meet your vertical viewing needs.