PowerFoam™ Technology: Getting Your Clothes Cleaner
Samsung washers use the exclusive PowerFoam™ technology. The powerful, yet gentle, foam is ideal for getting even large loads and bulky items remarkably clean.
What is PowerFoam?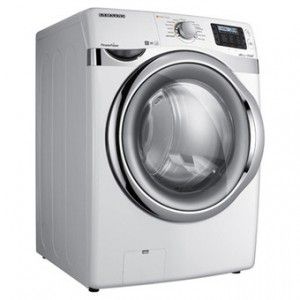 PowerFoam™ combines water, air and detergent at the start of each cycle to form a deep-cleansing foam. By dissolving the detergent at the beginning of the cycle, you are able to get the most of its cleaning power. The foam works to distribute the detergent more thoroughly and evenly so that your clothes get cleaner. And PowerFoam™ works with both warm and cold water, so you can get even deeply soiled clothes noticeably clean – while using less energy.
The eco cold cycle in the
Samsung 4.3 Cu. Ft. Steam Washer
, uses 65 percent less energy. The Energy Star-compliant model's use of PowerFoam™ lets it use less electricity and less water than traditional washers. And, as its name indicates, the washer uses steam to loosen tough soils and to sanitize your clothing, towels and bedding.
Vibration Reduction Technology


In addition, the steam washer features Vibration Reduction Technology™ that helps to reduce noise by 40 percent. Special sensors keep the drum perfectly balanced even at high spin speeds to reduce the clanging and jolting that can result otherwise. The direct drive motor offers a quiet, reliable operation without the use of belts or pulleys that can cause vibration and noise.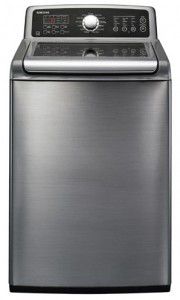 In Samsung's front-load washers, you can see the PowerFoam™ working through their tempered glass side doors. But hhgregg carries the
Samsung 4.7 Cu. Ft. Stainless Platinum High-Efficiency Top-Load Washer
that also features PowerFoam™ and Vibration Reduction Technology. Its super-large capacity lets you wash bulky garments and blankets while still getting them clean and sanitized. The model features a stainless steel, diamond drum that reduces wear and tear on your fabrics. It also has a tempered glass lid so you can watch the PowerFoam™ cleaning action from a bird's eye view instead.
Samsung is known for its very large appliances, but it also offers the
Samsung 3.9 Cu. Ft. Stainless Platinum Steam Washer
, a smaller model that is still big enough to wash bulky comforters. It features PowerFoam™, Vibration Reduction Technology, as well as the diamond drum design which provides a smoother interior surface to help protect your clothing from snags or runs.
Each model features an internal water heater that is able to better control the water temperature. Choose from five temperature settings including extra hot/cold, hot/cold, eco warm/cold, warm/cold and cold/cold. Also, choose from five spin speeds. The washers feature 13 preset wash cycles including eco cold wash, normal, heavy duty, permanent press, sanitize, bedding plus, deep steam, stain away, active wear, delicates/hand wash, wool, quick wash, rinse and spin. In addition, the washers feature automatic dispenser options including those for pre-wash, main wash, bleach and fabric softener.