How to Set up Your Internet Network at Home
Many electronic devices that you can purchase today require an internet connection. But how can you establish a secure connection for all the devices in your home office and entertainment system?
The First Step: Ethernet Routers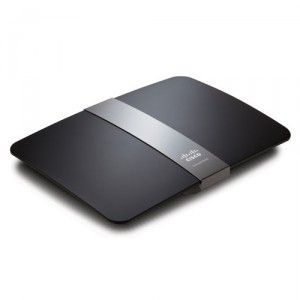 hhgregg carries a number of wireless and Ethernet routers from which to choose. Routers establish an internet network. They act as a conduit from your cable connection to multiple devices in your household.
Many electronic devices in households today are WiFi-enabled, meaning that they can connect to the internet without the need for cables. Cisco offers a variety of wireless routers that support the electronics for your home office, such as your PC, tablet and printer. It also supports your entertainment system, including your Blu-ray player, gaming console and HDTV. The
Cisco Linksys Maximum Performance N Router
offers the largest capacity with support for HD and 3D picture and sound. With double the network bandwidth, it provides a connection that's strong enough for HD video streaming without interference. Its 4-port switch easily connects multiple devices and multiple users with high speeds that are 10 times faster than the standard Ethernet connection.
Cisco's router comes with a USB port that lets you connect a centralized external hard drive to your network for easy file backup and file sharing at home or through the internet. And the device comes with WPA/WPA2 encryption and an SPI firewall that helps keep your network protected.
The Connection


The router comes with easy, step-by-step installation instructions that come on a CD-ROM which you simply insert into the CD/DVD drive of your computer. It will instruct you how to connect the device to your internet cable connection and to establish a name and password.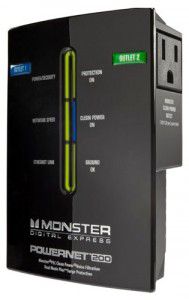 Once the router is working properly, your electronic devices will be able to pick up its signal. To secure the connection, simply enter the password you establish into the prompt that your device displays.
The Linksys Maximum Performance N Router maybe an exception, but garden-variety wireless connections don't work as well through walls or floors. Some people prefer to rely on cable Ethernet connections instead, but multiple Ethernet cables can be expensive to install and can cause cord clutter.
Monster Cable offers another kind of wireless router that connects devices to the internet through their electrical cords. The
Monster Cable Ethernet Network Connect Digital Life™ PowerNet™ 200
uses PLC, power line connection, a technology that in the past often experienced noise and interference from other electronics in the system. However, Monster Cable uses a patented Clean Power filtering system that secures the connection. Like a wireless router, it connects to your cable connection, but it includes electrical outlets through which you can connect your devices. PowerNet™ 200 also uses the patented Dual Mode Plus™ surge protection system that will automatically disconnect your devices in the event of a power surge. The package comes with two PowerNet™ units and two Ethernet cables.