Save Time and Energy with a Whirlpool Double Oven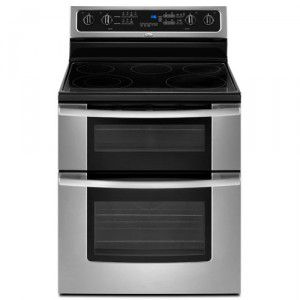 Baking a spicy casserole and a chocolate cake in the same oven just doesn't work – expect your cake to taste like the casserole. That's why Whirlpool created its double oven.

The Whirlpool 30-inch Stainless Steel Smoothtop Double Oven Electric Range's 6.7 cu. ft. oven capacity is split in two – the lower oven is 4.2 cu. ft. with space for two racks, and the upper oven is 2.5 cu. ft. and has one rack. Bake two different dishes at the same time, or heat up only one for smaller jobs.

Cooktop Features

In addition, this Whirlpool model has great features on top. Its eco-friendly Schott Ceran® glass cooktop was manufactured without releasing hazardous materials into the earth. The smoothtop withstands intense heat without cracking or chipping to preserve its sleek look, and it also helps minimize cleanup. Its four radiant elements include one 9-inch, 2,500-watt burner, two six-inch, 1,200-watt burner and one 2,500-watt burner that can be set as either a 6-inch or 9-inch burner. Whirlpool's 6th Sense Accubake™ technology monitors the oven's temperature and controls the range's cooking elements to deliver consistent heat.

Oven Features

The oven's Hold Warm feature uses low heat to keep one dish warm while you are completing another. Or use the delay bake mode featured in the lower oven to program baking to begin at a pre-set time. This feature is particularly beneficial for setting a slow-cooking roast to begin in the early morning or during the day while you're at work. Set it to start baking so it will be ready when you get home.

And in case a member of your family doesn't get the memo that you programmed the oven, this model also features a control lock function on its control panel to avoid unintended use or other changes to your cooking settings. The control panel includes a clock and timer, temperature settings for both the oven and range, an automatic oven light for both ovens, as well as a hot surface indicator light.

The oven's Easyview™ extra large oven window provides better visibility of the oven interior. Easily monitor the baking progress without opening the door to keep oven temperatures steady and undisturbed. This feature is particularly important for baking delicate cakes, cookies or quiches.

Since not all foods broil best at the same temperature, the oven's custom broil feature lets you broil foods from 170°F to 500°F. Grill meats at higher temperatures, while a lower heat works best for melting cheese.

Cooking for your family and friends can be an artistic hobby, but it's also an important responsibility. Not only does Whirlpool's double oven really assist you with meal preparation, but it helps you save energy by only having to heat half the oven for smaller jobs. And save 62 percent more energy when you set its Energy Save mode.