Upgrade Your Barbecue to a Char-Broil® Grill This Summer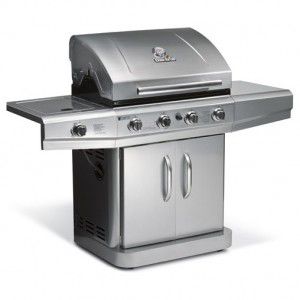 Ready to take your barbecuing production up a notch? Trust hhgregg to take you there. With the Char-Broil® 48,000 BTU Stainless Steel Gas Grill, you'll enjoy 688 square inches of total cooking space – which may tempt you to take all your cooking needs to the backyard this summer.

In addition to the 480 square-inch, porcelain-encased, primary cooking grate over the four main burners and the 180 square-inch secondary cooking grate, the grill features a 13,000 BTU side burner. The side burner's flat, stainless steel cover allows it to double as workspace. And the grill's cart provides matching workspace on the other side of the main grilling area. The grill is secured with a stainless steel, arched cover with heavy-duty locking casters when not in use.

An electronic ignition will start the burners, which are fueled by your choice of propane or natural gas. Store a propane tank in the enclosed cabinet below the grilling area, or hook up your natural gas connection. The side burner has a satellite connection to the grill's main heating source.

The porcelain-encased cooking grates hold in heat well and provide even cooking to all types of meat and vegetables. The front control panel lets you adjust the temperature for just the right amount of heat for either small or large pieces.

What to Grill

Char-Broil's grill is perfect for entertaining large crowds or for everyday use. Traditional hot dogs or hamburger patties are just a place to start. With a little creativity, you can use your grill for all your cooking needs.

It's easy to tenderize and add flavor to your meats with marinades. Flood your meat with a store-bought or homemade marinade in an airtight container and store in your refrigerator for a day or two before your meal. Then add more seasonings when you place the meat on the grill.

Fruits such as pineapple and mango and vegetables such as corn on the cob, onions, squash, peppers, mushrooms, cabbage and artichokes also grill great. Plant your garden with all your favorite grilling vegetables for a heavenly harvest in August or September.

For breakfast, use a dutch oven skillet on the grill for cooking eggs, bacon, sausage or pancakes. That same deep, lidded skillet can cook everything from scalloped potatoes to enchiladas and from baked beans to beef stew. Or use the dutch oven to bake a casserole or your favorite dessert. Grilling with a Char-Broil® Grill makes everything taste great, and it's healthier too. Grilling burns most of the fat away for a leaner, meaner finished product.

Durable Structure

Char-Broil's grills are designed to last. Their stainless steel workspace and cart structure will hold up for years to come, as will its stainless steel burners and porcelain-encased grates. And you can trust its fuel line connectors and electronic ignition units to maintain their safety and perform perfectly each time.