Bottom-Freezer vs. Top-Freezer Refrigerators: Which Are Better?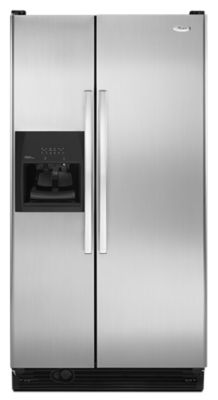 Bottom-freezer refrigerators are all the rage these days. Appliance manufacturers began developing them when researchers discovered that we access the fresh-food compartment more frequently than the freezer compartment of our refrigerators. But are they really better than traditional top freezers?

The Benefits of a Bottom-Freezer

In models like the LG 22.4 cu. ft. stainless steel model or the comparable Whirlpool 21.9 cu. ft. stainless steel model, the fresh-food compartment is at eye level so you can more aptly see what you're looking for. They also reduce back strain caused from bending over all the time. And have you ever been hit in the head by a swinging freezer door while you were accessing the fresh-food compartment on a top-freezer refrigerator? Then you're not the only one who has felt like a multi-tasking klutz.

Bottom-freezer refrigerators make it easier for your kids to reach for their after-school Popsicle treat. And adults also appreciate seeing everything in the freezer from a bird's eye view.

The Drawbacks of a Bottom-Freezer

However, bottom-freezer refrigerators cost significantly more than traditional top-freezer models. Don't expect to find one less than $1,000. In addition, bottom-freezer models are all at least 20 cubic feet in size. Top-freezer refrigerators come in sizes large and small and cost from below $1,000 for something large, such as the Whirlpool 21.1 cu. ft. model, to less than $400 for something smaller, such as for a Frigidaire 9.9 cu. ft. model that will suit a 1-bedroom or studio apartment.

And just as the bottom-freezer models, top-freezer refrigerators like the Whirlpool model are EnergyStar® compliant, so both help to conserve energy.


If you are looking for something large, consider a French door bottom-freezer refrigerator. You have many models to choose from like the Electrolux 27.8 cu. ft. stainless steel model with three Luxury-Glide™ sliding full-width freezer baskets with a self-closing drawer and multi-level, LED lighting. The fresh-food section is split in half with the French doors to conserve energy and to help you organize the foods you maintain in your kitchen. The model also comes with a PureAdvantage® filtration system that circulates fresh air throughout to keep foods tasting fresh. It also provides a filter for the water and ice dispenser.

Or choose the Samsung 28 Cu. Ft. 4-Door Refrigerator with French doors on top and two pull-out drawers on the bottom. The top drawer is for fresh-food and the bottom drawer is the freezer. The drawers are designed to be level with a traditional kitchen countertop to give it a built-in stylish look in your kitchen. The four compartments can each be set for a different temperature to keep meat and fish at a lower temperature than cold drinks or deli foods.