The Acer Iconia: A Tablet or PC?


The 32-gigabyte Acer Iconia 10.1-inch Android 3.0 Honeycomb Tablet is having an identity crisis. It's a tablet but it acts like a PC – and we're OK with that. It's the first touch-screen mobile device to have an INVIDIA® Tegra™ 250 dual-core processor.


Tegra™ provides up to two times faster internet browsing. And the tablet is equipped with Adobe® Flash®, with which you will experience smooth streaming of videos and graphics content that you can capture through the tablet's Wi-Fi connection. And enjoy full HD playback on your flatscreen with its Micro-HDMI™ port. And its back-lit screen provides exceptional brightness for optimal enjoyment.

Sleek Design

The Acer Iconia's sleek design and ample eight-hour, cable-free battery life makes it easy to take with you wherever you go. It's equipped with both a 5MP rear-facing camera and a 2MP front-facing camera that lets you take photos or transmit a Skype video connection. And its Dolby® mobile audio, dual speakers and dual analog microphone provide exceptional audio to accompany any video feed.

Expect a console-quality gaming experience with the tablet's NVIDIA® GeForce® graphics processor. The tablet comes preloaded with the full version of top games like Electronic Arts' "Need for Speed: SHIFT" and Gameloft's "Let's Golf," and you can download more with the Game Loft Store app. Now your gaming device is portable, which makes playing with friends all the more convenient and fun.

Stay Connected with Android Honeycomb OS and Social Apps

The Acer Iconia uses the new Android 3.0 Honeycomb mobile operating system for PC tablets, which lets you have multiple applications open simultaneously. Edit documents, check your email, browse through photos or read an eBook. Customize your tablet with apps from the Android Market Place. It comes equipped with LumiRead, GoogleBooks, Photo Browser 3D, Music A, AUPEO, YouTube™ and Google Talk.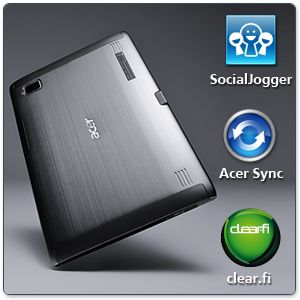 Stay fully connected to friends and family with the tablet's SocialJogger. With its programmable interface, you can stay current with your friends' Facebook statuses and you can quickly view the most pertinent Twitter feeds.

The tablet's USB and micro-USB ports let you connect a flash drive, mouse, keyboard or printer. Text block quote You can even charge your cell phone or connect to a portable external hard drive. And it's equipped with Acer Clear.fi™ that wirelessly connects to other Clear.fi™ enabled devices, such as your Acer PC, to synchronize your contacts, calendar, photos and video clips.

The Acer Iconia comes with a rechargeable Lithim-ion battery, AC power adapter, AC power cord, USB cable, charger, dustproof bag and user's guide.

The Acer Iconia is easily the utopia of PC tablets. It's just a matter of time before future versions of the Acer Iconia will offer all the features of a PC, which will make your personal computer more social, both online and in person. Purchase yours at hhgregg, where it's available in both 16- and 32-gigabyte models. Come in to an hhgregg store today for a full demo of how the Acer Iconia Tablet can equip your on-the-go, mobile lifestyle.