10299
Canon 55-250mm f/4-5.6 IS Telephoto Zoom Lens (Model: 2044B002)

Arrives in 5 days

Same Day
Not available in your area
Enter Your ZIP Code (required)
Availability may vary by location
Please enter your ZIP Code and select a fulfillment type before adding to cart
6 Months Special Financing Available

On purchase of 2044B002 with your h.h. gregg credit card made between 09/29/13 to 03/31/14. Subject to credit approval. Minimum monthly payments required. Click here for details.
Buy these together:
Canon D-SLR Camera with 2 Lenses, Bag and 8GB SD Card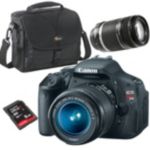 The EOS Rebel T3i continues the Rebel tradition of easy operation, compact design and no-compromise performance. You get the camera and 18-55mm IS lens REBELT3IKIT along with telephoto zoom lens 2044B002, camera bag LP34702-0EU and 8GB SDHC Card SDSDRH008G.
SRP $976.92
Savings $40.04
Your Price $936.88
CatalogEntryPriceDisplay.jspf 491
modelNum:
partNumber:
DisplayModelOrDP: M
Product Features
Designed with Canon's Optical Image Stabilizer technology while retaining compactness and lightness. Image stabilizer effect is equivalent to a shutter speed about 4 stops faster than the same size lens without Image Stabilizer
In other words, if the slowest shutter speed you could formerly hold a 250mm lens steadily was 1/250th of a second, with Canon's 4-stop stabilization correction, you could hand-hold at shutter speeds as slow as 1/15th of a second
Uses a UD-glass lens element to correct chromatic aberration for excellent image quality throughout the zoom range
Focal length and maximum aperture - 55-250mm f/4-5.6
Lens construction - 12 elements in 10 groups including one UD-glass element
Diagonal angle of view - 27° 50' - 6° 15'
Focus adjustment - DC motor, gear-driven (front focusing design)
Closest focusing distance - 3.6 feet/1.1m (maximum close-up magnification 0.31x)
Filter size - 58mm