11854
Canon 12.2 Megapixel Digital SLR Camera with 18-55mm IS Lens (Model: REBELT3KIT)

Arrives in 5 days

Same Day
Not available in your area
Enter Your ZIP Code (required)
Availability may vary by location
SRP $499.99
Savings $50.00
Your Price $449.99
Please enter your ZIP Code and select a fulfillment type before adding to cart
12 Months Special Financing Available
On purchase of REBELT3KIT with your h.h. gregg credit card made between 05/19/13 to 06/01/13. Subject to credit approval. Minimum monthly payments required. Click here for details.
Buy these together:
Canon D-SLR Camera with 2 Lenses, Case and 8G SD Card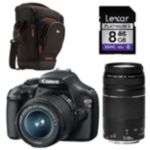 This new EOS Rebel T3 REBELT3KIT delivers beautiful photos and video. It features a 12.2 Megapixel CMOS Image Sensor, Canon's DIGIC 4 Image Processor, Canon's Basic+ function, HD video recording and Live View shooting, plus a convenient in-camera Feature Guide. Bundled with Zoom lens 6473A003, Camera case SLRC201 AND 8GB SD Card LSD8GBBS200X.
SRP $764.96
Savings $62.77
Your Price $702.19
Product Features
12.2 Megapixel APS-C Size CMOS Sensor for high image quality
EF-S 18-55mm f/3.5-5.6 lens -This lens expands picture-taking possibilities any time slow shutter speeds are needed. Optical image stabilization allows sharp hand-held shots at shutter speeds up to four stops slower than otherwise possible
11 elements in 9 groups and uses an Aspherical lens element to correct aberration for excellent image quality throughout the zoom range and a circular aperture for exquisite rendering of out-of-focus backgrounds
DIGIC 4 Image Processor ensures that images are captured, processed and saved with remarkable speed
The EOS Rebel T3 DSLR's new 3:2 multiple aspect ratio, in-camera RAW image processing, creative filters, image resizing and provided S2 and S3 image-recording quality are all possible thanks to the DIGIC 4 Image Processor
Capture and process data of images shot at 12.2 Megapixels at 3.0 fps, as well as 14-bit signal processing for image gradation, enhanced Face Detection Live mode, Full HD video recording, Auto Lighting Optimizer and Lens Peripheral Optimization
ISO 100 - 6400 for shooting from bright to dim light. With a broad range of ISO settings, the EOS Rebel T3 enables shooting from sunrise to sunset and helps ensure capture of the finest detail
With enhanced high-sensitivity optimization, subjects can be captured at high shutter speeds without flash, with minimized blur and noise. In bright scenes optimal exposure can be achieved with a fully open wide-diameter lens, no dark filter needed
Improved EOS HD Movie mode with expanded recording [HD: 30p (29.97) / 25p], and with in-camera movie editing options
High-precision, 9-point AF system utilizes a high-precision, f/5.6 cross-type center point. 9-point AF system uses both normal and high-precision focus depending on aperture and available light. Points can be chosen automatically or manually
Accurate Metering for perfect exposure. This camera features Canon's newest Dual-layer sensor, with 63 zones
By measuring not only the amount of light, but also taking into account color and luminosity, this new system delivers a very high level of accuracy for better results every time
Metering sensor has a color measurement function. Exposure errors and focus errors caused by different light sources are minimized; EOS Rebel T3 gives stable exposure from shot to shot in situations where light changes, such as indoor holiday scenes
3.0 fps continuous shooting up to approximately 3 JPEGs or approximately 2 RAW
Huge, bright 2.7-inch TFT (thin film transistor) LCD monitor with 230,000 pixels and a viewing angle of 170°. It's perfect for Live View composition or viewing camera settings like AF, ISO, Metering, AF Point selection and flash options
And the maximum brightness of the EOS Rebel T3 DSLR's LCD monitor is about 30% greater than its predecessor, which is a big benefit when you're using the camera in bright sunlight
Live View Function view your subjects directly on the huge 2.7-inch LCD monitor. Easy to magnify any part of the scene 5x or 10x for precise manual focus. There are two ways to use Autofocus along with Live View Function in the EOS Rebel T3
You can even choose a grid overlay, perfect for keeping straight lines in your subject straight in your pictures. In the studio, Live View Function can be used remotely via a computer through the EOS Rebel T3 DSLR's USB connection
Shoot by ambience selection - Based on the Picture Style and parameters (contrast, etc), the exposure compensation and white balance correction are adjusted to attain selected ambience. You can also select the strength of the ambience effect
Shoot by lighting or scene type - Although the actual parameter set is the white balance, the settings are expressed in more understandable terms
Quick Control screen gives you instant access to the most common settings, all in one place! It's a great way to quickly confirm or change settings while you're shooting
The Quick Control screen is particularly useful when you're shooting from a tripod or monopod, with the camera at eye level, because it eliminates the need to view the LCD data panel on top of the camera while changing settings
Creative Auto mode - While basic settings are based on full automatic operation, shooting guides on LCD screen enable you to make corrections based on simple guidelines. With Creative Auto mode, learn about photography while taking photographs
In-Camera Feature Guide displays a simple description or advice for the respective function. It is displayed in each shooting mode, during Mode Dial operations, and for Quick Control screen functions (during normal, Live View, and playback)
The Feature Guide appears automatically during Mode Dial operations and when a function is selected on the Quick Control screen
SPECIFICATIONS
Type
Digital, AF/AE single-lens reflex, camera with built-in flash
Recording Media - SD/SDHC/SDXC card, via external media (USB v.2.0 hard drive, or via Wireless LAN (Eye-Fi card)) Canon cameras are not guaranteed to support Eye-Fi card functions, including wireless transfer
In case of an issue with the Eye-Fi card, please consult card manufacturer. Use of Eye-Fi cards may not be approved in all regions, or from one region to another; please contact card manufacturer for status of approval in the country/region of use
Image Format - Approx. 22.0 mm x 14.7 mm
Compatible Lenses - Canon EF lenses including EF-S lenses (35mm-equivalent focal length is approx.1.6x the lens focal length)
Lens Mount - Canon EF mount
Image Sensor
Type - High-sensitivity, high-resolution, large single-plate CMOS sensor
Pixels - Effective pixels: Approx. 12.20 megapixels
Total pixels: Approx. 12.60 megapixels
Aspect ratio: 3:2 (Horizontal : Vertical)
Color Filter System: RGB primary color filters
Low Pass Filter: Fixed position in front of the CMOS sensor, Fluorine coating on the top surface
Dust Deletion Feature - (1) Manual cleaning; (2) Dust Delete Data acquisition and appending
Coordinates of the dust adhering to the low-pass filter are detected by a test shot and appended to subsequent images. The dust coordinate data appended to the image is used by the software to erase dust spots. Self Cleaning Sensor Unit not included
Recording System
Recording Format - Design rule for Camera File System 2.0 and Exif 2.30
File size - (1) Large: Approx. 12.20 Megapixels (4272 x 2848); (2) Medium: Approx. 6.30 Megapixels (3088 x 2056); (3) Small: Approx. 3.40 Megapixels (2256 x 1504); (4) S2: Approx. 2.50 Megapixels (1920 x 1280)
File size - (5) S3: Approx. 0.35 Megapixels (720 x 480); (6) RAW: Approx. 12.20 Megapixels (4272 x 2848); Exact file sizes depend on the subject, ISO speed, Picture Style, etc.
Recording Functions - Images record directly to the SD card. Creating new folders and selecting folders in the card possible
File Numbering - Consecutive numbering, auto reset, manual reset
RAW + JPEG Simultaneous Recording - Provided (RAW + JPEG)
Color Space - sRGB, Adobe RGB
Picture Style - Standard, Portrait, Landscape, Neutral, Faithful, Monochrome, User Defined 1-3
White Balance
Settings - Auto, Daylight, Shade, Cloudy, Tungsten Light, White Fluorescent Light, Flash, Custom (Custom WB)
Auto White Balance - Auto white balance with the image sensor
Color Temperature Compensation - White balance correction: ±9 levels; White balance bracketing: ±3 levels in single-level increments; Blue/amber direction or magenta/green direction possible
Color Temperature Information Transmission - Provided
Viewfinder
Type - Eye-level SLR (with fixed pentamirror)
Coverage - Vertical/Horizontal approx. 95% (TD)
Magnification - Approx. 0.8x / 22.4° (with 50mm lens at infinity, -1 m- (dpt))
Eye Point - Approx. 21 mm (At -1m-1 from the eyepiece lens center)
Dioptric Adjustment Correction - Adjustable from approx. -2.5 to +0.5 m- (dpt)
Focusing Screen - Fixed
Mirror - Quick-return half mirror (transmittance: reflectance ratio of 40:60)
Viewfinder Information - 1) AF information (AF points, focus confirmation light); 2) Exposure information (Shutter speed, aperture, ISO speed, AE lock, exposure level, exposure warning)
Viewfinder Information - 3) Flash information (Flash ready, flash exposure compensation, high-speed sync, FE lock, red-eye reduction light); 4) Image information (Highlight tone priority, Monochrome shooting, white balance correction, SD card info)
Depth Of Field Preview - No depth-of-field preview button (Enabled with C.Fn-8-5 and pressing SET)
Autofocus
Type - TTL-CT-SIR AF-dedicated CMOS sensor
AF Points - 9-point all cross-type AF (f/5.6 at center: Dual Cross Sensor)
AF Working Range - EV 0 - 18 (at 73°F/23°C, ISO 100)
Focusing Modes - (1) Autofocus; One-Shot AF, Predictive AI Servo AF, AI Focus AF (Switches between One-Shot AF and AI SERVO AF automatically), (2) Manual focus (MF)
AF Point Selection - (1) Manual selection; (2) Auto selection
Selected AF Point Display - Indicated by superimposed display in the viewfinder and on the LCD monitor
AF Assist Beam - 1) Intermittent firing of built-in flash; 2) Effective range: Approx. 4 m/13.1 ft at center, approx. 3.5 m/11.5 ft at periphery. # With an EOS-dedicated Speedlite attached, the Speedlite's AF-assist beam is emitted instead
Exposure Control
Metering Modes - 63-zone SPC TTL metering with selectable modes, Evaluative metering (linkable to all AF point), Partial metering (approx. 10% of viewfinder at center), Center-weighted average metering
Metering Range - EV 1.0 - EV 20.0 (at 73°F/23°C with EF50mm f/1.4 USM lens, ISO 100)
Exposure Control Systems - (1) Program AE (program-shift possible), (2) Shutter-priority AE, (3) Aperture-priority AE, (4) Manual exposure, (5) Automatic depth-of-field AE, (6) Full Auto, (7) Flash Off, (8) Creative Auto
Exposure Control Systems - (9) Program AE with ambience selection, (10) E-TTL II autoflash program AE, Evaluative metering, averaged metering
ISO Speed Range - Auto, ISO 100 - 6400 (in whole-stop increments). In Creative Zone modes, the maximum ISO speed (ISO 400, 800, 1600, 3200, or 6400) for ISO Auto can be set. With C.Fn-5-1 (Highlight tone priority), ISO 200 or higher will be set
Exposure Compensation - (1) Manual: ±5 stops in 1/3- or 1/2-stop increment; (2) AEB : ±2 stops in 1/3- or 1/2-stop increments
AE Lock - Auto AE Lock: Applied in One-Shot AF mode with evaluative metering when focus is achieved; Manual: By AE lock button
Shutter - Vertical-travel, mechanical, focal-plane shutter with all speeds electronically controlled. Electronic 1st curtain. Only 2nd curtain mechanically controlled. 1/4000 to 1/60 sec., X-sync at 1/200 sec. 1/4000 to 30 sec.
Shutter - Bulb (Total shutter speed range. Available range varies by shooting mode), Settable in 1/3- or 1/2-stop increments, Soft-touch electromagnetic release 10-sec. or 2-sec. delay Compatible with Remote Switch RS-60E3. No wireless remote control
Type - Vertical-travel, mechanical, focal-plane shutter with all speeds electronically controlled
Electronic 1st curtain. Only 2nd curtain mechanically controlled
Shutter Speeds - 1/4000 to 1/60 sec., X-sync at 1/200 sec., 1/4000 to 30 sec., Bulb (Total shutter speed range. Available range varies by shooting mode.), Settable in 1/3- or 1/2-stop increments
Shutter Release - Soft-touch electromagnetic release
Self Timer - 10-sec. or 2-sec. delay
Remote Control - Compatible with Remote Switch RS-60E3. There is no wireless remote control sensor
Built in Flash
Type - Auto pop-up, retractable, built-in flash in the pentaprism
Guide Number - Approx. 9.2/30 (at ISO 100 in meters/feet), Approx. 13/43 (at ISO 200 in meters/ feet)
Recycling Time - Approx. 2 seconds
Flash Ready Indicator - Flash-ready icon lights in viewfinder
Flash Coverage - Up to 17mm focal length (equivalent to approx. 28mm in 135 format)
FE Lock - Provided
Flash Exposure Compensation - Up to ±2 stops in 1/3- or 1/2-stop increments, Flash exposure compensation for built-in flash and Speedlite can be set with the camera
External Speedlite
Flash Metering - E-TTL II autoflash (evaluative flash metering and average flash metering), FE lock
Flash Exposure Compensation ±2 stops in 1/3-stop or 1/2-stop increments
FE Lock - Provided
Drive System
Drive Modes - (1) Single shooting; (2) Continuous shooting; (3) 10-sec. self-time; (4) 2-sec. self-timer; (5) Continuous shooting after 10-sec. self-timer (2 to 10 shots)
Continuous Shooting Speed - (1) JPEG: Max. approx. 3.0 fps; (2) RAW: Max. approx. 2.0 fps; (3) RAW+JPEG: Approx. 0.8 fps (averaged value)
Maximum Burst - (1) JPEG: 830 shots; (2) RAW: 5 shots; (3) RAW+JPEG: 1 shot
When the image-recording quality is JPEG, continuous shooting is possible until the 4GB SD card (Canon standard test card) becomes full
However, if you use an SD card whose writing speed is slower than our test card or if the file size is larger than our standard test image, you might not be able to shoot continuously until the card becomes full
With RAW+JPEG Large/Fine, "BUSY" will be displayed. However, continuous shooting is possible at approx. 0.8 fps (averaged value)
Based on Canon's testing standards with a 2GB CF card, high-speed continuous shooting, ISO 100 and Standard Picture Style
Varies depending on the subject, SD card brand, image-recording quality, ISO speed, drive mode, Picture Style, etc
Live View Functions
Shooting Modes - Still photo shooting and video shooting
Focusing - 1) Autofocus, 2) Manual Focus
Metering Modes - Real-time Evaluative metering with image sensor
Metering Range - EV 0 - EV 20 (At 23°C/73°F, 50mm f/1.4 lens, ISO 100)
Grid Display - (1) Grid 1: Pair of vertical and horizontal lines, (2) Grid 2: 5 vertical and 3 horizontal lines
Exposure Simulation - Provided
Silent Shooting - Not provided
LCD Monitor
Type - TFT color, liquid-crystal monitor
Monitor Size - 2.7-inch (Screen aspect ratio of 4:3)
Pixels - Approx. 230,000 dots (320 x 240: QVGA)
Coverage - Approx. 99%, Viewing Angle: 170°
Brightness Control - Adjustable to one of seven brightness levels
Interface Languages - 25 (English, German, French, Dutch, Danish, Portuguese, Finnish, Italian, Norwegian, Swedish, Spanish, Greek, Russian, Polish, Hungarian, Czech, Romanian, Ukraine, Turkish, Arabic, Thai, Traditional Chinese, Korean and Japanese)
Playback
Display Format - (1) Single image display, Single image, basic information, detailed information, histogram display; (2) Index display, 4-image index and 9-image index, (3) Jump display, 1/10/100 images, shooting date, by folder, movies, stills
Highlight Alert - On the detailed information and histogram displays, highlight areas with no image data will blink
Image Protection and Erase
Protection - Erase protection can be applied/canceled for a single image, all images in a folder, or all images in the card
Erase - Erase single image, erase selected images, erase all images on folder, erase all images in a card, or erase only unprotected images
Direct Printing
Compatible Printers - PictBridge-compatible printers
Printable Images - JPEG images complying to Design rule for Camera File System, RAW images printable, Movies cannot be printed
DPOF: Digital Print Order Format
DPOF - Version 1.1 compatible
Customization
Custom Functions - 10 Custom Functions with 32 settings settable with the camera
Camera User Settings - Not provided
My Menu Registration - Up to six top-tier menu options and Custom Function settings can be registere
Power Source
Battery - Battery Pack LP-E10 x 1 (With the AC Adapter Kit ACK-E10, AC power is possible)
Battery Check - Automatic battery level check when power is turned ON; Battery level indicated in one of four levels on LCD monitor
Power Saving - Provided. Power turns off after 1, 2, 4, 8, 15 minutes
Date/Time Battery - Built-in secondary battery. When fully-charged, the date/time can be maintained for about three month (Recharge time for backup battery: Approx. 8 hours)
Start-up Time - Approx. 0.1 sec. (Based on CIPA testing standards)
Inside Package
EOS Rebel T3 body, EF-S 18-55mm f/3.5-5.6 IS lens, Eyecup Ef, wide strap, interface cable, AV cable, battery pack, battery charger, EOS digital solution disc and instruction manuals, "Great Photography is Easy" and "Do More with Macro" booklets