The Toshiba Portégé® Z835 Ultrabook™
The Best of Toshiba

This Tablet Delivers:
Toshiba's thinnest, lightest and most elegant 13" PC experience
Intelligent features and an ingeniously sturdy design
The ultimate in ultraportable freedom and flexibility


Feel lighter than air, plus more mobile and empowered than ever, with Toshiba's affordable new Portégé® Z835 Ultrabook™, our thinnest, lightest and most elegant 13" PC.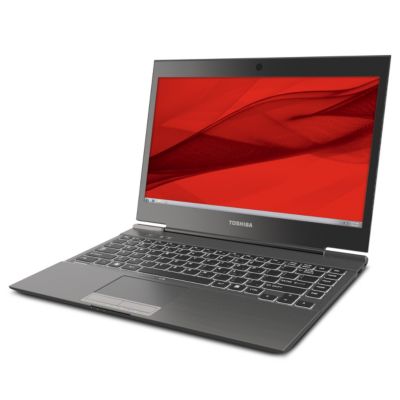 Ultrathin, and weighing about half a pound less than its popular competitor, this newest Toshiba creation offers the innovative components, plus the engineering and long battery life rating you need to stay unplugged, engaged and in motion throughout most of your work day. Go ahead. Launch your day in seconds from the hibernation mode with Intel® Rapid Start. Then ping the office, work on your master's thesis, chat with friends, browse for vacation options, and do much more. An array of our exclusive "smart" features adds fun and convenience to your mobility. Plus, with an ingeniously sturdy design, this PC balances freedom and flexibility with stiffness and durability to help you wade through your to-do's without a worry in the world.

Product Highlights

A Breakthrough Thin and Light Design Portégé® Z835 Ultrabook™ is so thin and light you might forget you have it—until you see what it can do, and hear all the compliments on its sophisticated styling. Just under an inch thin, and at less than two and a half pounds, it bests the Apple® MacBook Air right down to the core.

Trendsetting Toshiba Innovation A spill-resistant backlit keyboard helps to guard against accidents and keeps you typing when the lights go down. Fast solid state drives offer more reliability while opening your files and apps like that! Plus, Toshiba Hi-Speed Start Technology saves you precious time by offering a quick start from OFF state.

Supreme Mobility With the Portégé® Z835 Ultrabook™, mobility means more than just great portability, it means a long battery life rating of up to eight hours. Go ahead ping the office, browse, email and do more. A 128GB solid state drive that uses less power and helps protect your data against bumps. What's more it comes with Wireless N, Bluetooth®, plus a microphone and webcam.

Great Sound Quality Our Portégé® Z835 Ultrabook™ comes with stereo speakers powered by MaxxAudio®, providing outstanding aural performance, with sound that's louder, clearer, fuller, and more life-like. Listening to tunes, watching movies or browsing media-rich websites become the pleasure they should be.