Introducing SONOS
New SONOS audio systems are hitting store shelves, and reviewers are already praising them for their easy set-up and ability to wirelessly stream digital music. For people who want to listen to MP3s and other digital music formats, the SONOS Play systems offer a chance to enjoy music from a personal digital library without being chained to a desktop or laptop computer or constantly carrying a smartphone or iPod.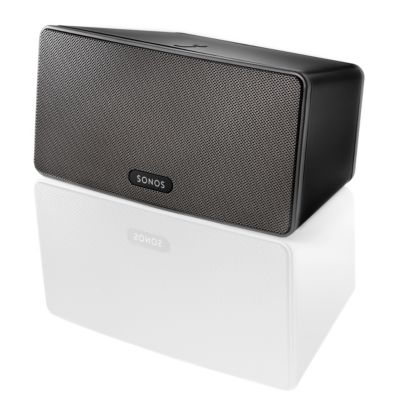 The SONOS Play:3 and the SONOS Play:5

The Play:3 and Play:5 offer many of the same features and benefits with one significant difference.


The SONOS Play:3 and Play:5 are both very easy to install, and take only a few minutes to set up. They both allow you to expand your wireless music system on a room-by-room basis, and they let you play a different song in every room.
Both the Play:3 and Play:5 have built-in wireless capability, meaning you can plug in to a number of different devices, including your Mac or PC computer, Android phone, iPod and iPad. (Apps can be downloaded for free from iTunes or the Android Market.) You can also play music from your CDs, MP3 player, TV and DVD through audio input.
In addition to getting music from your own digital library, you can stream wirelessly from Anubis.fm, AUPEO!, Deezer, iheartradio, Last.fm, MOG, Napster®, Pandora®, Rdio®, Rhapsody®, SiriusXM™ Internet Radio, Spotify®, Stitcher SmartRadio(tm), TuneIn, Wolfgang's Vault®, and downloads from any service offering DRM-free tracks.
The biggest difference between the two systems is the number of speakers. The SONOS Play:5 has five speakers powered by five dedicated digital amplifiers with a subwoofer for powerful base and two mid-range drivers and two tweeters for a rich, full sound. As you might guess, the less expensive Play:3 only has three speakers.


SONOS Options and Accessories

SONOS options and accessories are available to help you customize your wireless sound system for the best in-home setup.


SONOS Dock for iPod and iPhone: With this dock, you can play from your stored music or stream from apps like Spotify or Pandora. The system will not downgrade sounds output to analog, so you still get high-fidelity audio. The SONOS dock also serves as a charging dock for your iPhone and iPod.
SONOS Wireless Bridge: The Bridge allows you to extend the range of your SONOS system. You can stream music wirelessly to a remote location by installing a bridge in between a ZonePlayer located remotely and the rest of your SONOS system. Installation of the bridge is automatic—just turn it on and press a button.
SONOS Connect Wireless Add-On Player: The add-on player connects to your home theater or external amplifier so you can integrate your home theater with other audio devices into a multi-room sound system.


All-in-all, the SONOS systems and bridge provide full, hi-fi sounds, but what makes them truly desirable is their simplicity. Unlike systems created for audiophiles, SONOS audio systems are ready to go in about five minutes. The convenience of the set-up process alone makes them unique and great for those who don't consider themselves sound system experts.