Introducing the Sharp 80-inch Aquos LED TV
At the end of September, the makers of Sharp TVs unveiled their 80-inch Aquos LED TV, and it was big news. Literally. Sharp boasts that this mammoth LED-lit flat screen television with Aquos technology will be the largest commercially available television of its kind to date. It has a lot of people talking, and it's for some very good reasons.

If you are interested in purchasing this TV, you should definitely weigh the pros and cons. The Sharp 80" TV is a huge entertainment investment, so it is important to make sure you have room to comfortably view the display in your home. You should also make sure that you have the entertainment budget for a flat panel of this class, because in case we forgot to mention it—this TV is huge!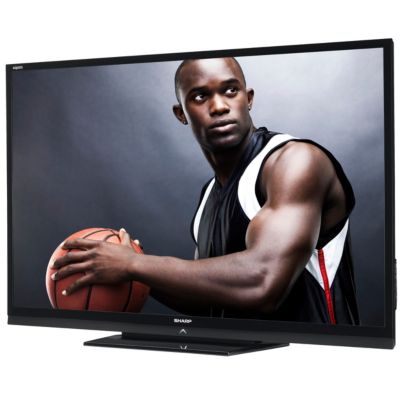 Features of the Sharp 80" Aquos TV

As you can probably imagine, a flat screen TV of this size comes with a relatively hefty price tag. However, it is also packed with many great features. Here are a few of the most impressive:


Full HD 1080p X-Gen LCD Panel and 10-bit Processing: This model was designed with advanced pixel control. This means you get minimized light leakage and a wider aperture to let even more light through.
Vyper Drive: Gamers will love this feature, as it eliminates the perceptible lag between the televisions' display and the game console when in game mode.
Aquos Smart TV: With this feature, you get streaming video from companies like Netflix, Vudu, and CinemaNow delivered right to your living room. You also get customized Internet content and support through the TV's built-in Wi-Fi connection.
4 HDMI® Inputs: Single-cord connections allow you to connect to a number of additional HD components like DVD and Blu-Ray players and the latest gaming consoles.
Dual USB Inputs: With these extra inputs, you can watch high-res video, view photos, and listen to music on the Sharp 80-inch TV.
Display: The aspect ratio on this Sharp 80-inch LED model is 16:9.
General Features: The TV features total audio output power of 20 watts and remote control.


The manufacturers are also proud to note that the 1080p X-Gen LCD display also consumes less energy than standard CCFL LCD televisions. The resultant effect for consumers is an optimized picture with a lower energy bill.

Drawbacks of the Sharp 80-inch Aquos LED TV

With any flat screen TV of this class, the drawbacks are pretty clear. First it's so large that you must have enough room for the TV in your home. With a price tag of just under $5,000, this TV probably will not be the first choice for those on a budget. However, like other smaller models, the Sharp 80" Aquos TV can be wall-mounted for better viewing and user safety.