The Nikon 1 J1 White Digital Camera
The Nikon 1 J1 White Digital Camera with 10-30 mm lens is one of Nikon's latest innovations in digital photography, and the 10.1 megapixel J1 white is a popular choice because of its advanced features and portability. This mirrorless camera is a nice choice for beginners who want to upgrade from a standard compact camera.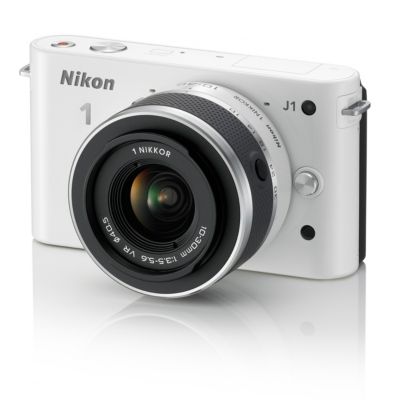 Basic Features of the Nikon 1 J1

The J1 is considered an entry level camera in the Nikon 1 family, but it has some pretty powerful features. First of all, the camera boasts the newly developed 10.1 effective megapixel CX-format and super high-speed AF CMOS sensor. Users can take a still shot while simultaneously capturing video footage, and multiple still shots can be taken with a single click. Fast-moving images can be taken incredibly quickly at 10 fps. The Nikon 1 J1 will even help you determine which photos are the best images from the set with the Smart Photo Selector.

Another convenient feature of the J1 is its interchangeable lens systems. Most portable digital cameras of this size don't offer interchangeable lenses for wide-angle and zoom shots, but the J1 does. The 1 Nikkor lenses were designed to be easily swapped so you don't experience a lot of down time while changing between lenses. The best part of this easy-interchange lens system is that users are less likely to miss out on those perfect shots whether you use the single focal length 10mm (picture angle equivalent of 27mm in 35mm format) or the 30-110mm telephoto (81-297mm equivalent in 35mm format).

For taking the best pictures, the camera's display includes brightness adjustment and an anti-glare coating. This makes it possible to see the display even in less than optimal lighting conditions.

Full HD video capabilities give users another great advantage when it's time to capture memories. The Nikon 1 J1 White records in 1080p at 30 fps with stereo sound and records easily with a single touch.

Additional Camera Features

Although the J1 is a great, easy-to-use camera for the beginning, it also has more advanced features which make it a good choice for more advanced photographers looking for a more portable option. You can select aperture and shutter priorities and shoot photos in manual exposure mode for more control of the pictures you take.

High-speed image processing is made possible by the EXPEED 3 processing engine with dual processors, and you can shoot in low-light conditions with a high ISO with less image noise because the camera features a super high-speed AF CMOS image sensor. In addition, the 3-inch LCD monitor contains 460,000 pixels makes it easier for you to expertly frame each photo and video you take. You can see the display clearly, even when you are shooting out doors in bright light with glare.

All in all, the Nikon 1 J1 White digital camera makes a great camera for preserving family memories, remembering special events and reliving all of your favorite vacations. It offers quite a few options and interchangeable lenses without the bulk and expense of high-end, professional DSLR models.