7 Reasons to Mount Your Flat Screen TV


There are lots of reasons why mounting your flat screen TV is a good idea. TV mounts come in a number of sizes and setups so you can mount virtually any size flat panel TV. In addition, most mounts are simple to install. If you are still not convinced that mounting your flat screen is the best option, here are seven more great reasons to consider installing a wall mount for your plasma or LED TV.

Top Reasons to Mount Your TV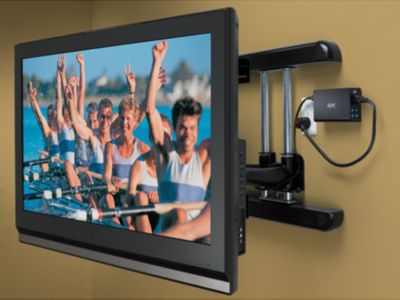 Reduce Glare: Installing a flat panel TV wall mount can reduce the amount of glare on the television screen, making it easier to watch TV shows and movies or play video games in rooms where lighting creates viewing problems. Because many mounts allow you to tilt and swivel the TV, you can make adjustments to reduce glare depending on the lighting and the time of day.
Improve Safety: Installing a wall mount is especially important if you have small children and pets. When TVs rest on traditional TV stands they can easily be pushed over. This can cause personal injury. Wall mounts keep heavy and expensive TVs out of reach of your little ones.
Enhance Beauty: The trend in interior design is to install flat panel TVs as if they were a work of art. Wall mounting provides a sleek and modern look. In homes with fireplaces, for example, many homeowners are opting to mount their televisions above the mantel. Previously the fireplace and TV fought each other as the focal points of a room. With a wall mount, they can work together.
Improve Viewing Angle: With traditional setups, it seems like someone is always struggling to find a better place to watch the TV. By mounting the TV you can adjust the viewing angle so everyone has a better view of the TV. You can also adjust the TV's position depending on who's watching.
Save Money: TV mounts are very affordable. Mounts for smaller flat screens can be purchased for less than fifty dollars, and many other models are available for less than $200. Make sure that you purchase a mount capable of bearing the weight of your television.
Prevent Damage: TV screens are less likely to be scratched or damaged if they are mounted. Keeping them out of harm's way helps you protect your investment.
Save Space: Mounting the flat screen on the wall creates more floor space. This is particularly valuable in small homes and apartments where living space is already limited. A wall mount call also free up space on top of your entertainment center to provide more room for whatever you want—from audio and visual consoles and gaming systems to treasured family photos.
In short, mounting your flat screen TV just makes sense. It allows you to protect your family and pets, it gives you an opportunity to create more space in any room, and it provides a better viewing experience for the whole family.