Services
h.h. gregg offers convenient home delivery and installation on electronics and appliances. We pride ourselves on our hassle-free premium service plans, exceptional customer service, expert Associates.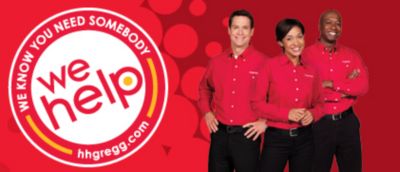 Articles for Services
My Account
Information relating to your hhgregg account. Steps are included if your password is forgetten, changing your password, and wish list information.
---
Order Information
Information relating to orders from hhgregg, including checking your order status, changing your order, or viewing your order history.
---
hhgregg rewards
Information about hhgregg's rewards program.
---
hhgregg Credit Card
Information relating to the hhgregg credit card.
---
Payments & Pricing
Information relating to hhgregg payment options, hhgregg credit cards, hhgregg Price Guarantees and sales tax policies.
---
Delivery
Information regarding delivery services, rescheduling a delivery, and delivery details.
---
Installation
Information regarding installation availability, installation guarantee, and scheduling an installation.
---
Shipping & Store Pickup
Information relating to shipping policies and store pickup procedures.
---
Returns & Refunds
Information relating to hhgregg return policies and refunds.
---
Premium Service Plans
Information relating to hhgregg premium service plans, service policies, and costs.
---
Rebates
Information relating to manufacturer rebates.
---
Donation Request Form
Information about receiving funds from hhgregg to support a local charity or organization.
---
What You Should Know About Product Warranties
In the past, product warranties have received a bad reputation. Some consumers saw them as an unnecessary and added expense. However, there are some valuable benefits to purchasing product warranties that consumers should consider, particularly as they begin shopping for major
appliances and electronics
.
---
FAQ: Buying Floor Models
When shopping for new appliances and electronics, one way to save money is by purchasing a floor model. It's a money-saving tip praised everywhere from morning news shows to websites and blogs. However, some smart shoppers are concerned about the risks of purchasing their next refrigerator, TV or laptop from the store floor.