Cameras & Camcorders
h.h. gregg offers the finest selection of cameras and camcorders from all of the top-name brands you're looking for. Whether you want a digital camera or a professional-grade camcorder, h.h. gregg has all the options.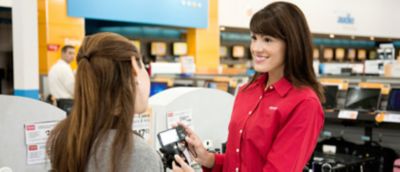 Articles for Cameras & Portable Electronics
The Nikon 1 J1 White Digital Camera
The
Nikon 1 J1 White Digital Camera
with 10-30 mm lens is one of Nikon's latest innovations in digital photography, and the 10.1 megapixel J1 white is a popular choice because of its advanced features and portability. This mirrorless camera is a nice choice for beginners who want to upgrade from a standard compact camera.
---
Introducing the 16GB Sony Handcam® With Projector
The Sony 16GB Handycam® camcorder (Model HDRPJ10) truly is handy when it comes to sharing your family's memories. This camcorder has a high-contrast projector built right in, making it possible for you to create a mobile theater at the neighborhood block party, in grandma and grandpa's living room, or right in your own home.
---
The Canon EOS Rebel T3
Digital single-lens reflex cameras (also called digital SLR or DSLR cameras) have truly evolved in recent years. They continue to drop in price while at the same time consumers are benefitting from a growing list of high-tech features. While these digital cameras are more powerful than ever before, they are also much easier for amateur photographers to use. The Canon EOS Rebel T3 is no exception.
---
The Difference Between HD and Standard Definition Camcorders
While shopping for a new camcorder to shoot your next short for film class or record your sister's wedding, you might be left wondering about the differences between HD and standard definition camcorders. Does it matter which one you buy? Are there really any significant differences other than price?
---
Differences between DSLR and Point-and-Shoot Cameras
Pictures are hands down the best way to preserve all of life's great memories and special moments. Whether you want to remember your college road trip, your daughter's wedding, or your child's kindergarten graduation, digital photos make storing and printing your photos a snap.

Deciding to buy a camera is the easy part, however. The tougher question is: Should you buy a DSLR camera or a point-and-shoot camera? The answer to this question can be complicated further by a series of even more questions. How much photography experience do you have? Do you want to adjust the camera's settings manually or use automatic settings? What kind of picture quality do you expect from your next camera? What kind of photographs do you plan to take? Let's examine the pros and cons of both DSLR and point-and-shoot models to help you make the best decision.
---
Camera Filters Improve Images and Protect Your Camera
If you are thinking about buying a professional DSLR camera for work or play, you will likely purchase a camera base and one or more lenses. You will also purchase a memory card and a camera bag. But don't forget the filters.
---
More Megapixels Means Higher Resolution
Digital cameras have evolved to the point that even the least expensive point-and-shoot cameras and many cameras on smartphones and tablets provide enough resolution to be able to create attractive, 4- by 6-inch prints. In fact, unless you are a professional photographer with your own dark room, there's no reason to use film cameras anymore.
---
Optical vs. Digital Zoom
A zoom lens gives you the ability to take a photo of an object that appears closer to you than you are physically near it at the time that you take the photo. But there is a big difference between digital zoom and optical zoom.
---
Preserve Memories by Backing up Your Photos and Videos
Even with the JVC Everio 120-gigabyte Camcorder that features a hard drive, you will still eventually run out of space to store the video feed you record.